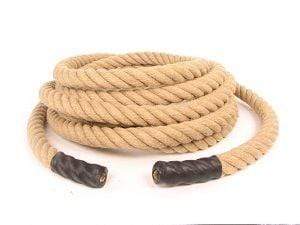 Perfect rope for gym workout, for upper-body exercise and for tug-of-war. Our training ropes are made of first grade quality raw material for an optimised durability. Hemp rope is soft to the touch and doesn't burn the skin.
Specifications
CTR-H40-100
40 mm (1-9/16") 4-strand hemp rope (natural fiber)
Both ends finished with shrink tube
Weight : 36.6 kg (80.7 lb)
Length : 30.5 m (100')
Other lengths and diameters available on request.
Request for information:
Hemp Training Rope 40mm (1-9/16 in) - 100 ft
Specifications
Sport and Leisure Rope and Netting Technical Publications
Barry Publications
Barry Handout
Photo Gallery
Note:
Barry sells to companies, professionals, and government only.
Minimum quantities may apply to some products.
This information is for reference only and is subject to change without prior notice.
Any Barry document received by email, downloaded or printed is uncontrolled.