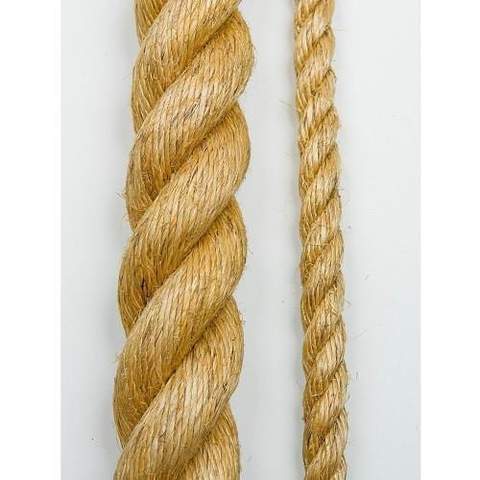 Our manila rope is made of first grade quality raw material. Manila rope is strong, economical and biodegradable.
Features
Standard color: Natural brown
3-strand twisted construction
Strong yet economical
Biodegradable
Meets S. Federal Specification TR-605B
Request for information:
Manila 3-Strand Rope
Specifications
Applications
Decoration
Theatrical applications
Crowd control
Code
Diameter
Minimum Break Strength
(mm)
(in)
(kg)
(lb)
MHC081250
6
1/4
245
540
MHC1206
10
3/8
551
1 215
MHC1606
13
1/2
1 082
2 385

MHC2006

16
5/8
1 796
3 960
MHC2406
20
3/4
2 204
4 860
MHC3206
25
1
3 674
8 100
MHC4006
32
1-1/4
5 511
12 250
MHC4806
38
1-1/2
7 552
16 650

MHC6406

50
2
12 655
27 900
---
We also recommend:
Rope Systems and Utilities Rigging Equipment Technical Publications
Barry Publications
Articles on Barry Cordage Blog
Barry Handout
Trademark
Dyneema® is a trademark of DSM. Use of this trademark is prohibited unless strictly authorized.
Technora® is a registered trademark of Teijin Ltd.
Barry D.E.W. Line® and all Barry D.E.W Line® products are trademarks of Barry Cordage Ltd. Use of these trademarks is strictly prohibited unless authorized by Barry.
SafeLine® is a trademark of BlueWater Ropes.
Spectra® is a trademark of Honeywell International Inc.
Stable Braid, Static Rope et Tech-12 are products of Samson Rope Technologies.
Vectran® is a trademark of Kuraray Co. Ltd.

Note:
Barry sells to companies, professionals, and government only.
Minimum quantities may apply to some products.
This information is for reference only and is subject to change without prior notice.
Any Barry document received by email, downloaded or printed is uncontrolled.