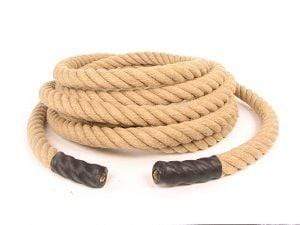 Perfect rope for gym workout, for upper-body exercise and for tug-of-war. Our training ropes are made of first grade quality raw material for an optimised durability. Hemp rope is soft to the touch and doesn't burn the skin.
Specifications
CTR-H40-100
40 mm (1-9/16") 4-strand hemp rope (natural fiber)
Both ends finished with shrink tube
Weight : 36.6 kg (80.7 lb)
Length : 30.5 m (100')
Other lengths and diameters available on request.
Request for information:
Hemp Training Rope 40mm (1-9/16 in) - 100 ft
Specifications
Sport and Leisure Rope and Netting Technical Publications
Barry Publications
Barry Handout
Photo Gallery
Note: Barry sells to companies, professionals, and government only.
Note: Minimum quantities may apply to some products, $150 minimum purchase, sales by phone, fax, website and email only.
Note: This information is for reference only and is subject to change without prior notice.
Note: Any Barry document received by email, downloaded or printed is uncontrolled.