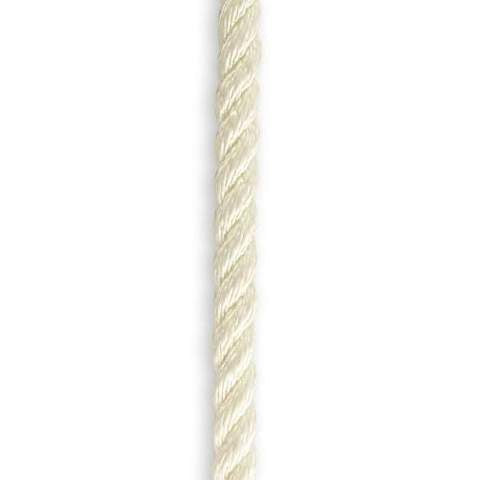 This 3-strand nylon twisted rope provides high strength and flexibility.
Specifications
Standard color: White
Good abrasion resistance
Oil resistance
Rot and mildew resistant
High energy absorption
Applications
Nautical anchoring
Decoration
Rope nets
Request for information:
Nylon 3-Strand Rope
Specifications
Code

Diameter
(mm) (in)

Average Strength
(kg) (lb)

NTR080602
6.4
1/4
818
1 805
NTR120602
9.5
3/8
1 721
3795
NTR160602
12.7
1/2
3 406
7 510
NTR200602
15.9
5/8
5 084
11 210
NTR240602
19.1
3/4
6 509
14 350
NTR320602
25.4
1
14 544
32 065
---
We also recommend:
Rope Systems and Utilities Rigging Equipment Technical Publications
Barry Publications
Articles on Barry Cordage Blog
Barry Handout
Trademark
Dyneema® is a trademark of DSM. Use of this trademark is prohibited unless strictly authorized.
Technora® is a registered trademark of Teijin Ltd.
Barry D.E.W. Line® and all Barry D.E.W Line® products are trademarks of Barry Cordage Ltd. Use of these trademarks is strictly prohibited unless authorized by Barry.
SafeLine® is a trademark of BlueWater Ropes.
Spectra® is a trademark of Honeywell International Inc.
Stable Braid, Static Rope et Tech-12 are products of Samson Rope Technologies.
Vectran® is a trademark of Kuraray Co. Ltd.

Note:
Barry sells to companies, professionals, and government only.
Minimum quantities may apply to some products.
This information is for reference only and is subject to change without prior notice.
Any Barry document received by email, downloaded or printed is uncontrolled.