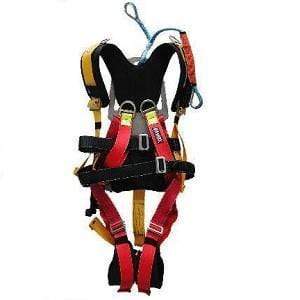 The Sub Divo Lite has 5 anchor points certified at 5000 lbf minimum breaking strength. When used with the optional DH501WING compensation kit, it transforms into a buoyancy compensator vest to facilitate working underwater, especially when diving with a hot water suit. Use with Barry (# LV401) diving lifeline for surface-supply diving. Meets and exceeds CSA standard Z275-2-04 and Quebec RSST requirements for diving harnesses
Highlights
5 anchor points certified at 22.2 kN (5,000 lbf) minimum breaking strength
Stainless steel quick-connect adjuster buckles
Coated nylon webbing, color-coded for identification
Padded back, shoulders and leg loops
Integral stainless steel back plate - Weight: 3.6 kg (7.9 lb)
Request for information:
DH501 Sub Divo Lite Diving Harness
Specifications
Harness designed specifically for professional divers.
The Sub Divo Lite has 5 anchor points certified at 5000 lbf minimum breaking strength. When used with the optional DH501WING compensation kit, it transforms into a buoyancy compensator vest to facilitate working underwater, especially when diving with a hot water suit.
Use with Barry (# LV401) diving lifeline for surface-supply diving.
Meets and exceeds CSA standard Z275-2-04 and Quebec RSST requirements for diving harnesses.
Characteristics:
5 anchor points certified at 22.2 kN (5,000 lbf) minimum breaking strength
Stainless steel quick-connect adjuster buckles
Coated nylon webbing, color-coded for identification
Padded back, shoulders and leg loops
Integral stainless steel back plate - Weight: 3.6 kg (7.9 lb)
Stainless steel single-tank adapter with straps of nylon/stainless steel buckles
Removable weight pockets (8 provided) for 5 lb lead weights (can be attached to belt or tank straps)
Comes with transport bag
One size
Working load limit: 227 kg (500 lb)
Weight: 6.8 kg (15 lb)
---
We also recommend:
Fall Protection, Rescue and Diving Equipment Technical Publications
Trademark
3M ™, 3M ™ DBI-SALA® and 3M ™ Protecta® are trademarks of 3M.
SafeLine® is a trademark of BlueWater Ropes
Note:
Barry sells to companies, professionals, and government only.
Minimum quantities may apply to some products.
This information is for reference only and is subject to change without prior notice.
Any Barry document received by email, downloaded or printed is uncontrolled.